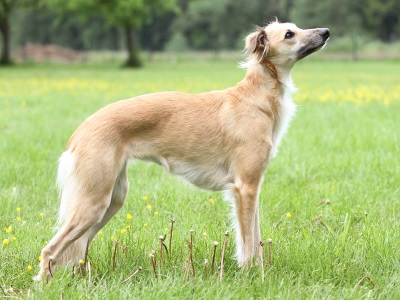 The Silken Windsprite, also known as Longhaired Whippet, was made up of crossbreeds between the whippet, long-haired whippets (whith Sheltie-ancestors) and the Borzoi, as well as the Silken Windhound. After some confusion, the first official Longhaired Whippet Club was founded in the USA in 2001. Because of the Sheltie ancestors watch out for MDR1 and Collie Eye Anomaly.
Appearance

Any color and drawing is permitted. Its size is 48.3-55.9 cm for the male and the female is 45.7-53.3 cm. Miniature for males under 47,0 cm and for females under 44,5 cm.


Breed Uses

The Silken Windsprite is a friendly, gentle dog, suitable for sporty people.

There are currently no dogs of this breed.
read on
Still no breeds are associated with this breed!