Kennel Belgian Tigers

Breeder:

Telephone number:

Location:

Country:
Wir haben uns zum Ziel gesetzt, einen leistungsstarken, gesunden und auch sozialen Malinois zu züchten. Hunde die wir zur Zucht einsetzen verfügen über die bestmöglichsten Voraussetzungen, um diesem Ziel so nah wie möglich zu kommen, dabei sind wir sehr kritisch in der Auswahl. Unsere Zuchthündinnen sind allesamt sehr sozial und verfügen über eine überdurchschnittliche Arbeitsbereitschaft und ein sehr hochgelagertes Beuteverhalten. Selbstverständlich können sie jederzeit bei der Arbeit und auch im privaten Bereich, begutachtet werden. Auch bei der Auswahl der Deckrüden achten wir ganz besonders, neben Blutlinien und Triebanlagen auf das Sozialverhalten, welches für uns eine der wichtigsten Grundeigenschaften eines guten Hundes darstellt. Ich liebe einen sehr hohen Spieltrieb und mag die Hunde, die ordentlich zur Sache gehen, dabei dürfen sie auch mal ein bisschen speziell und verrückt sein. Wichtig ist mir, dass sie alles geben, bei dem was sie tun und das es kein Aufgeben gibt. Ich werde versuchen Malinois zu züchten, die problemlos als Diensthund und auch im Hundesport eingesetzt werden können. Da in jedem Wurf oftmals recht verschiedene Charaktere vorhanden sind, möchte ich es auch nicht ausschließen, ab und an auch Hunde für die Sportarten Agility und Obedience dabei zu haben, deshalb freue ich mich auch über Anfragen in diese Richtung. Was ich jedoch nicht möchte ist, einen Malinois als reinen Familienhund zu züchten, der keine Aufgabe im Sport oder Dienst bekommt, der vielmehr nur so zum Spaß gehalten werden soll, weil er doch so schön aussieht. Wer so einen Hund sucht, ist bei mir an der falschen Adresse. In meinen Augen gibt es genug andere Hunderassen, die genau dafür gezüchtet wurden und ich sehe keinen Grund, unsere tolle Rasse dahingehend zu verändern.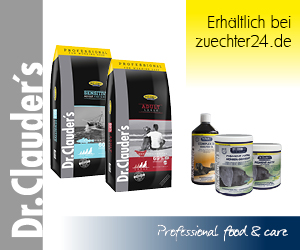 breeds
litter planning
breed with number in the litter

Race:

Belgian Shepherd

Date of birth:

Number in the litter:

Race:

Belgian Shepherd

Date of birth:

Number in the litter:

Race:

Belgian Shepherd

Date of birth:

Number in the litter:
+more
Die 7 Säulen der ganzheitlichen Tiergesundheit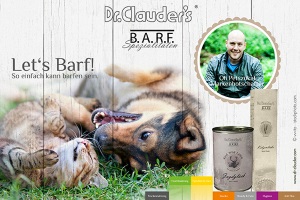 Dr.Clauder's bietet mit seinem Produktsystem alles, was Katze und Hund benötigen, um gesund, vital und schön mit uns zu leben und lat zu werden. Egal, ob der Mensch es komfortabel liebt oder die Beschäftigung mit der Ernährung seines Tieres zu seinen Steckpferden zählt und der persönliche Einfluss gewünscht ist.
Dr.Clauder bietet mit Best Choice by Dr.Clauder's für Hunde, Dr.Clauder's Katzenvollnahrung eine Super Premium Trockennahrung, mit Dr.Clauder's Selected Meat für Hunde und Selected Pearls für Katzen eine naturnahe, hochwertige Feuchtnahrung und mit Dr.Clauder's Function & Care Ergänzungsnahrung alles, was benötigt wird, um dem besonderen Nahrungsbedarf eines jeden Tages für jedes Tier gerecht zu werden. Gesunde und vor allem extrem fettarme Snacks runden das Sortiment ab.
read more